When deciding to furnish your living area there are many choices to be made and none to be underestimated, especially when it comes to tables and chairs: the pair of pivotal elements of Italian tradition that refer to conviviality and the beauty of sharing special moments, finding their greatest expression in Made in Italy design , as in the Bontempi Casa line. Matching these elements does not impose any specific rules, but leads to great doubts to be solved: the three possible ways that we have identified for the best combination of tables and chairs are the following:
- Colour matching
- Material matching
- Style matching
Let's take a step-by-step look at some useful tips and tricks for an optimal result.
Matching colours for tables and chairs
In terms of colour, current trends seem to favour diversity and customisation of combinations, moving away from the concept of "right" in the absolute sense and aiming for the winning choice that reflects the personality, soul and colour of the person who is furnishing the home.
Solid colour table and chairs
The monochromatic matching of tables and chairs is a classic and elegant choice, safe and stylistically consistent. We may play with styles in a mix & match perspective to give dynamism and personality to the space.
Advice from Bontempi Casa: a dining room with an Imperial table with an elliptical solid wood top and Sally chairs in mud colour with contrasting ecru stitching.
Coloured table and chairs
Furnishing accessories such as tables and chairs are the ideal occasion to bring a bit of colour to the environment and give it a strong identity: whatever the style, from classic to modern, colour always finds a place in convivial areas, so the combination of different colours, above all with regard to chairs, is an original and impactful choice.
Advice from Bontempi Casa: mix&match of Chantal chairs with solid wood frame and leatherette seat in red, blue, yellow or beige and Delta table.
The material choice of tables and chairs
When furnishing large spaces, what needs to be kept in mind is the impact that the material of the furnishing accessories has on the overall view, let's take a look at the different types.
Glass table chairs
A symbol of refinement and elegance, a glass table evokes a modern and minimalist style, the combination of which can be studied according to the finishes: modern, wood, metal or matching, looking for the colour most in harmony with the shade of the glass.
Advice from Bontempi Casa: Bridge table with glass top and Mood chairs with green leather upholstery.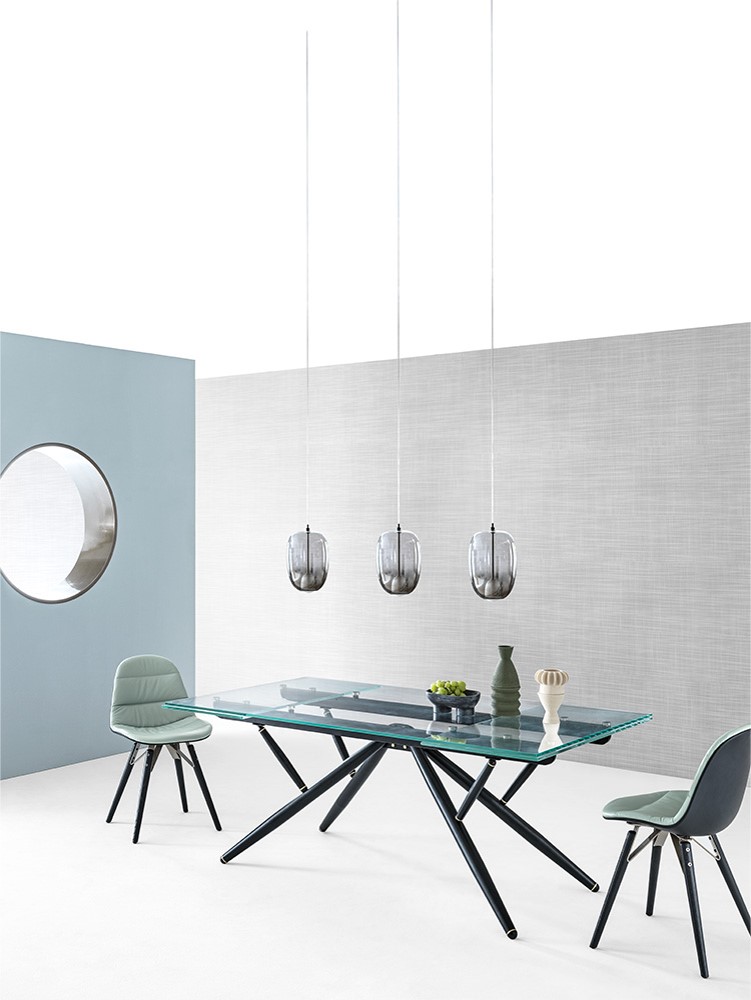 Chairs for wooden table
For lovers of "natural vibes" a combination of wooden tables and chairs is an irresistible appeal, but there is also the possibility of matching the two complements according to the material of the structure.
Advice from Bontempi Casa: Bridge table in solid wood and black steel base with Spark chairs that reflect its material structure.
Marble table chairs
A timeless material of undisputed elegance: marble always has an important impact in the home and, like all icons, everybody must pay respect to it.
The advice of Bontempi Casa is to choose chairs that give the right emphasis to the material, maybe by opting for a colour that matches the veining of the marble or that is in sharp contrast, as in the case of a Barone table with marble top combined with Chantal chairs in grape red velvet.
The style of tables and chairs
The first question to ask is: what style do we want for our environment?
This third way sums up the previous two, giving a definitive direction to the choice of combination for tables and chairs with three possibilities:
– Stylistic consistency
– Mix&Match
– Sharp contrast
Any of these ways is based on the choice of materials and colours to give a strong identity to the area to be furnished: the line of Bontempi Casa chairs and tables offers all possibilities, giving ample space to creativity, guaranteed by the Made in Italy quality.