As the warmer seasons approach, the desire to enjoy outdoor spaces is growing every day. Garden, terraces and balconies, as well as outdoor public areas, are places of peaces and quiet, the ideal crossroads between space, time and thoughts. This is why conceiving and creating outdoor architectural projects can be an opportunity to set up impressive outdoor spaces with impeccable technical performance.The outdoor range by Cotto d'Este – a brand that embodies manufacturing elegance, aesthetic research and attention to detail – features impeccable porcelain stoneware surfaces with a 14 mm or 20 mm thickness, high-end solutions that preserve their aesthetic appeal and technical performance from exposure to external agents and weather changes, perfect for residential and public areas: driveways, terraces, swimming pool edges, parking lots, bathing establishments, public parks and other urban areas. The coverings offer high slip resistance and are particularly versatile and easy to install, guaranteeing highly resistant slabs that can withstand significant loads, such as passing and parking of motor vehicles.The range is a journey en plein air through new ways of conceiving ceramic and tactile effects inspired by stone and other materials thanks to collections that are perfectly suited to outdoor settings, offering value, elegance and unquestionable resistance.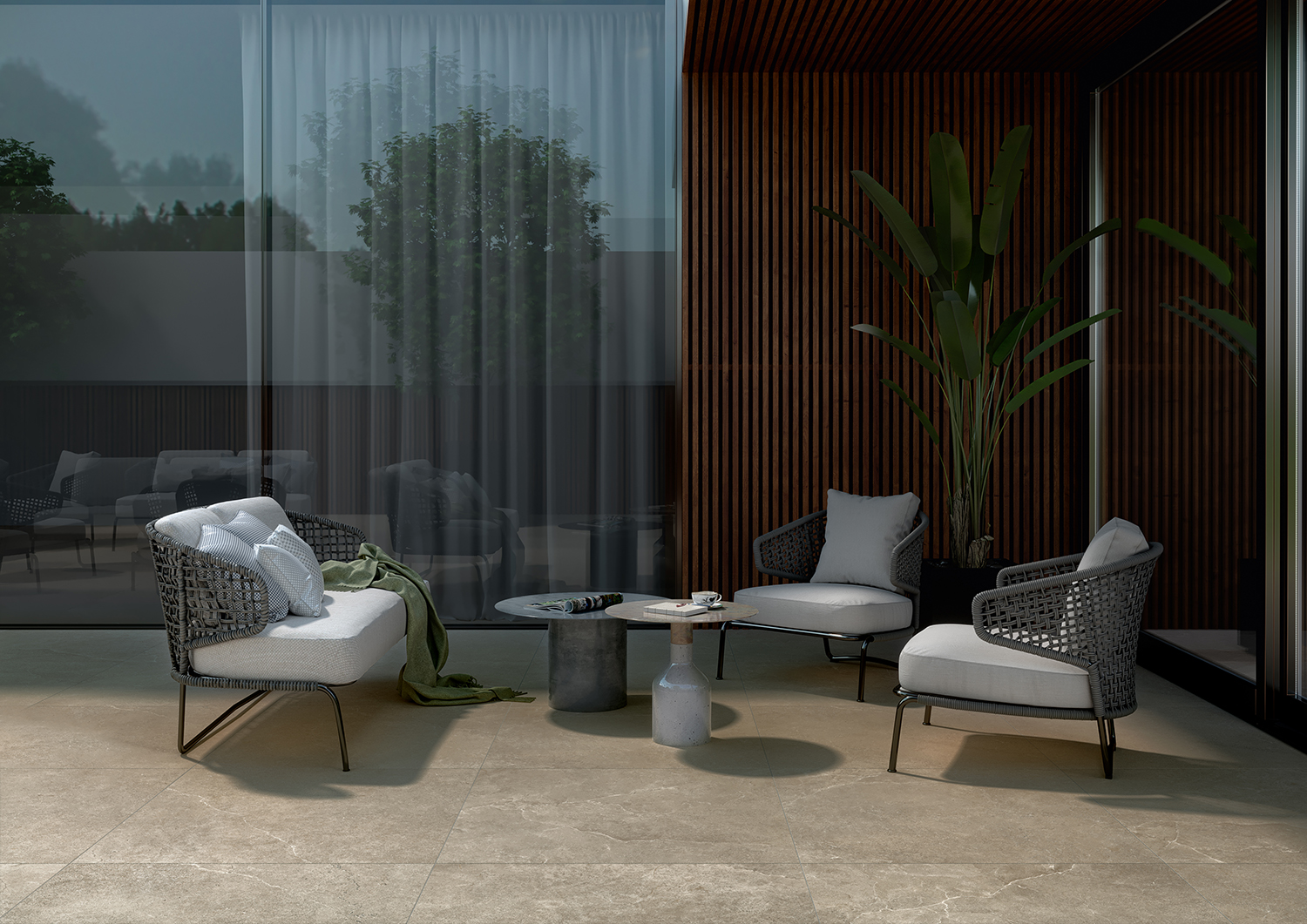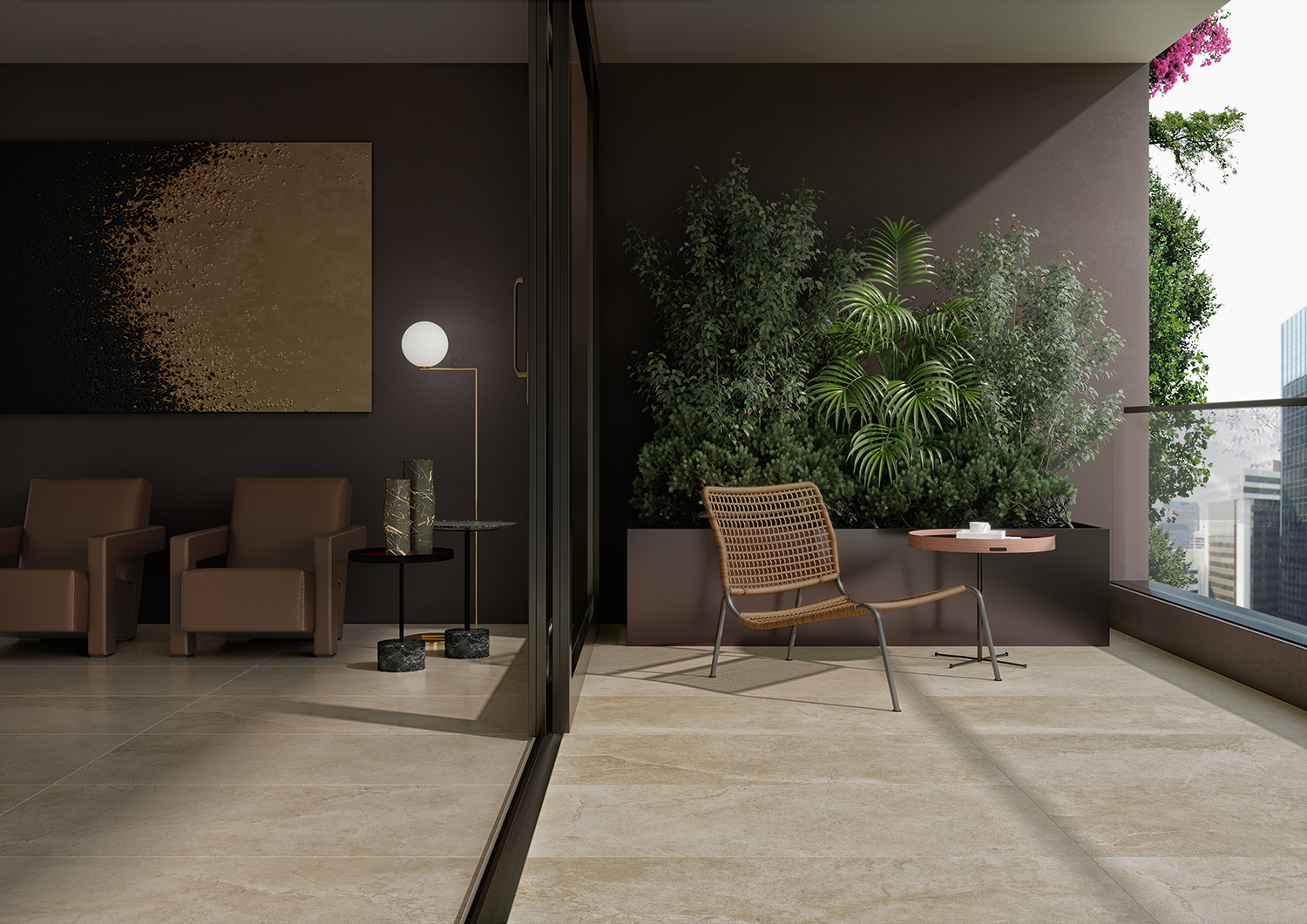 Lithos is distinguished by the tactile appeal of its stone, which hybridizes with the aesthetics of the rarest marbles, reinterpreting them in a unique, sophisticated and exciting project and a wide variety of surfaces to admire and touch, an aesthetic evolution that has never been witnessed before. The Grip surfaces, inspired by mechanical processes used for stone, and the innovative Sabbiata, both in the 14 mm thickness, are perfect for outdoor use. The latter, in particular, with its custom structure, graphic effect and colour, is ideal for outdoor installation thanks to its slip resistance. It can also be used for interiors due to careful consideration of its degree of roughness which, reduced but still effective, enables installation in closed environments. This makes it possible to maintain perfect tactile and chromatic uniformity in projects in which the product is used for spaces that extend outdoors, such as terraces and patios. These surfaces are joined by Bocciardata used for products with a 20 mm thickness, which, reworking the typical treatments used for marble, guarantees non-slip performance specifically for outdoor use.
---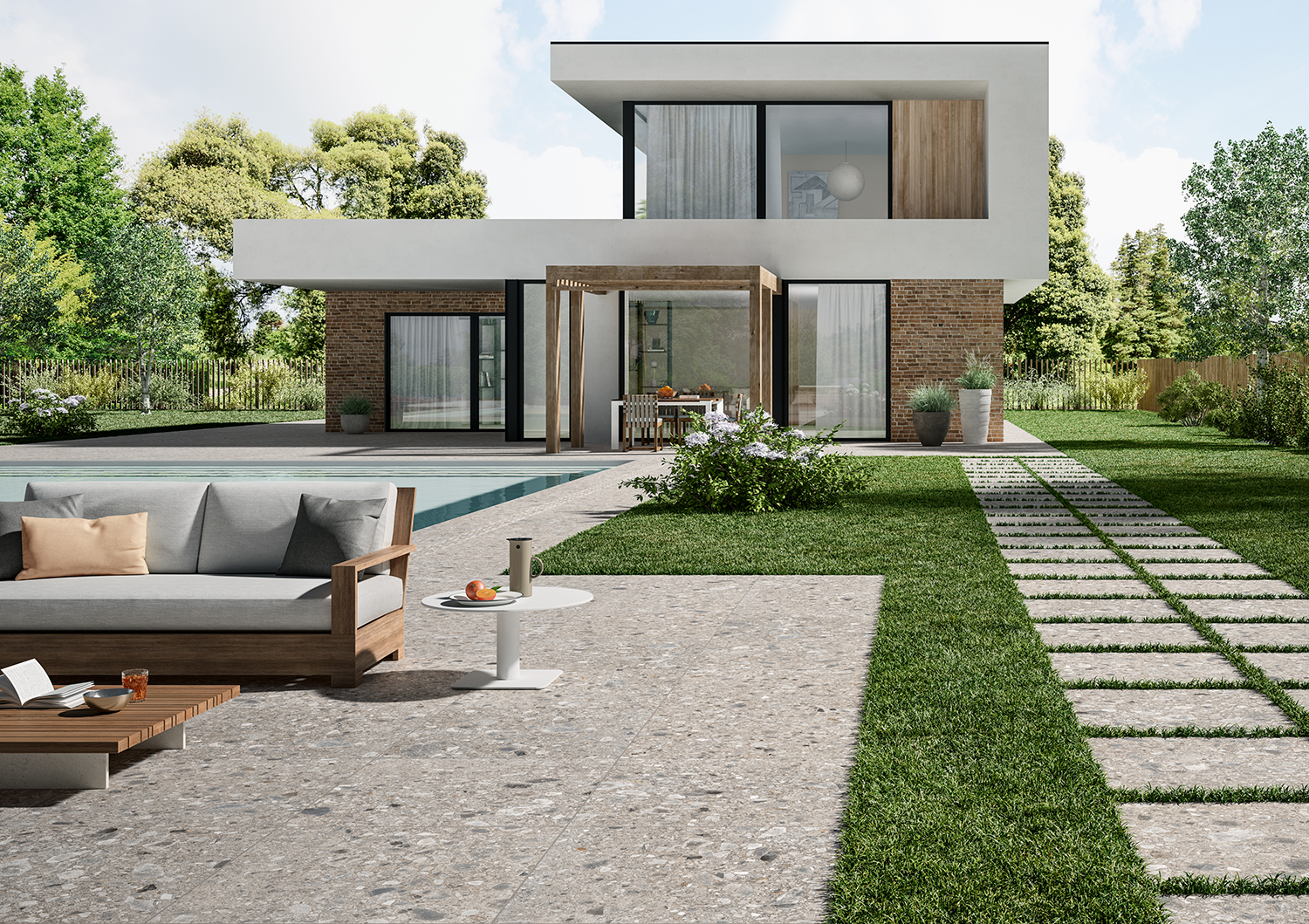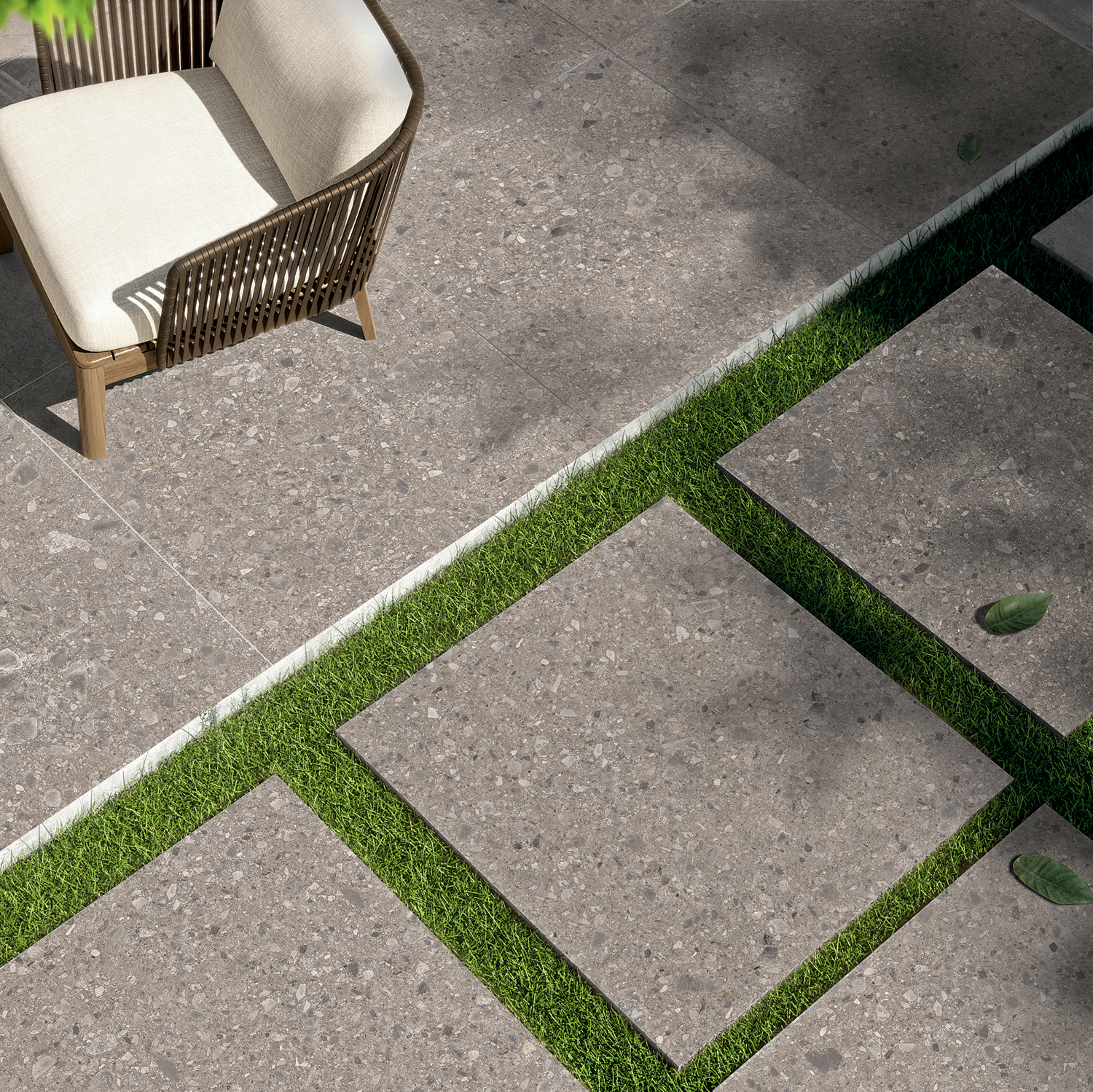 Pietra d'Iseo, inspired by the characteristic stone of Lombardy, Ceppo di Grè, with which Milan's historical buildings, villas and monument built, is a collection appreciated for its irregular design and tone-on-tone grey shades. Available in the 90x90 cm size with a 20 mm thickness, it features the Bocciardata finish, which is very popular for outdoor flooring since it considerably increases the slip resistance of ceramic slabs.
---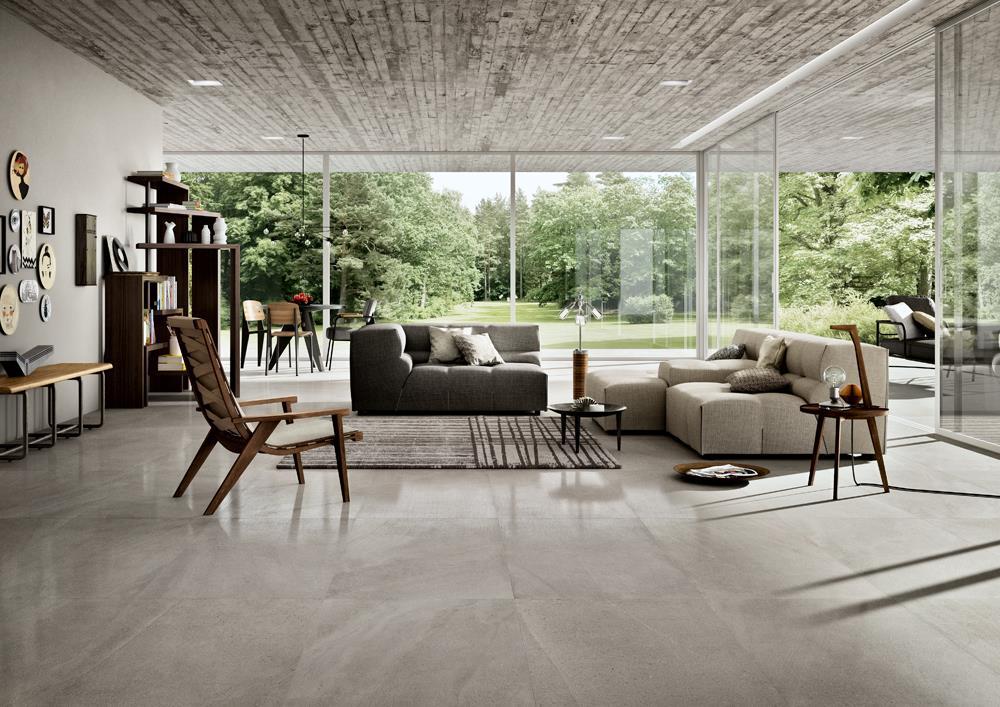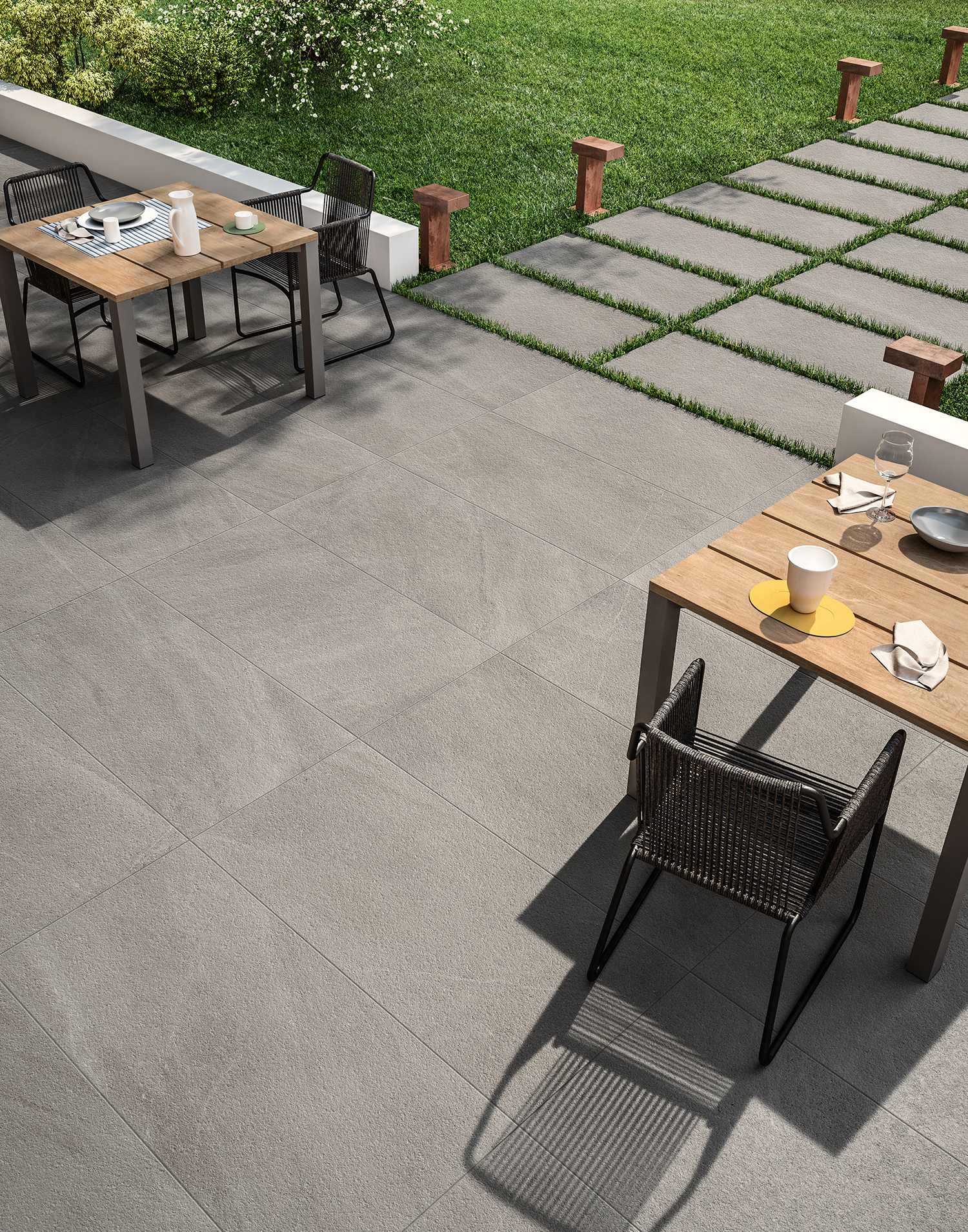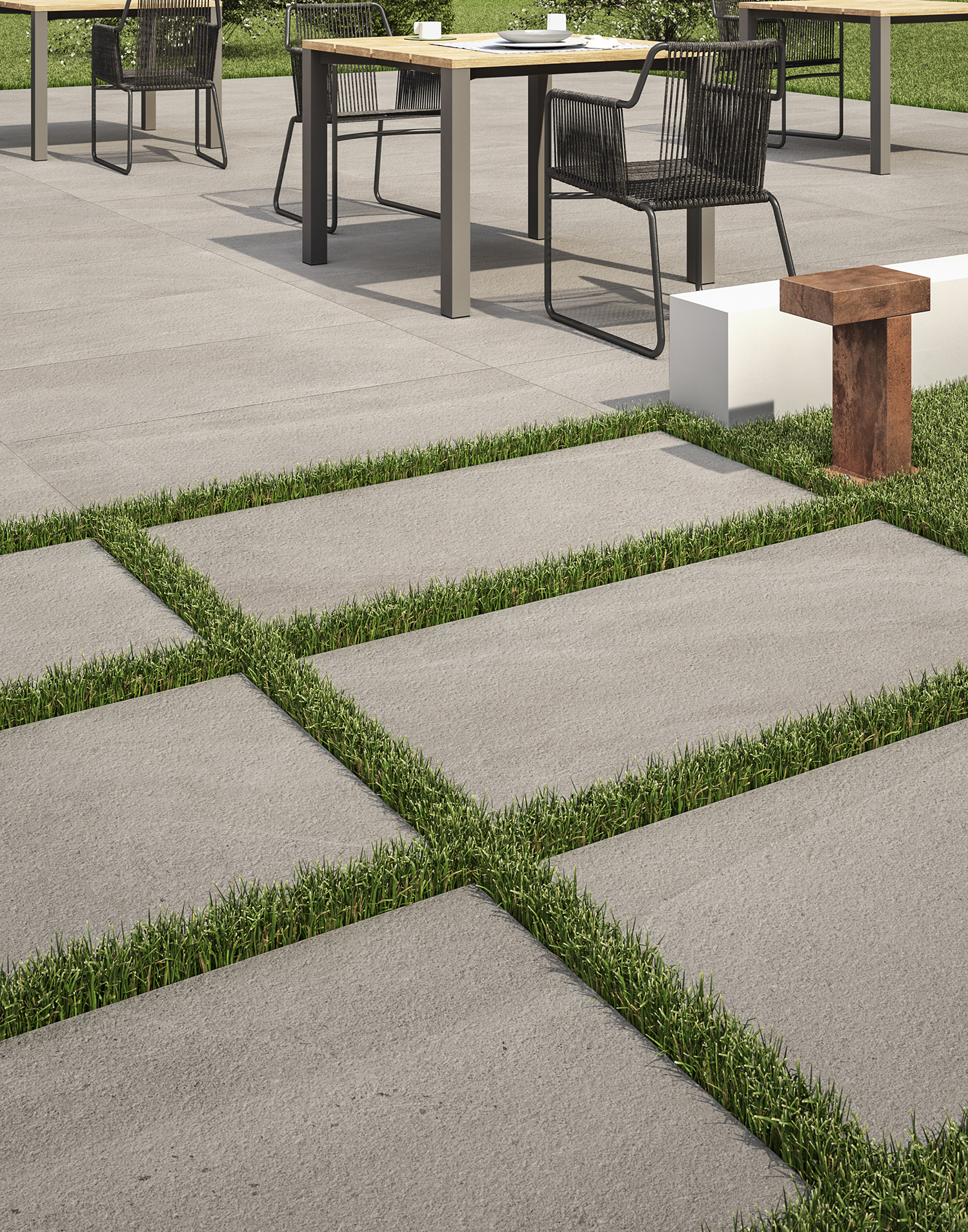 This beauty comes from the seabed: sedimented, stratified and fixed in stone by the patient work of water and time. This is Limestone, which Cotto d'Este has recreated and interpreted with an elegant and modern twist. In addition to the ultra-thin thickness – perfect for ventilated façades and exterior cladding in general – and the 14 mm version, the collection offers the 90x90cm and 60x120cm sizes in a 20 mm thickness with the Fiammata finish. This unique and recognizable surface is faithfully achieved using moulds from natural stones and is inspired by processes that are only possible on stones with suitable characteristics (such as granite, which contains a high level of quartz), whose surface is struck by a jet of live flame at high temperatures and then immediately cooled with water. Thermal shock causes expansion of the stone and the resulting roughness typical of this finish.
---
The three Cotto d'Este products encapsulate the brand's ability to offer multiple solutions for different uses while maintaining great expressive power, high technical performance and a wide choice of textures, decorations and sizes, perfectly integrating into unique outdoor projects with excellent performance and in harmony with the surrounding context.