The characteristics of the Mediterranean style
This lively and carefree trend takes its inspiration from the sunny Mediterranean views, the bright colours of the sea and the countryside, and the mixture of cultures of the peoples bordering the Mare Nostrum: a true mix&match capable of creating a unique style that is the envy of the world.
Mediterranean-style furniture designs are characterised by some distinctive elements, primarily the importance of natural light and the desire for light-heartedness.
As soon as one crosses the threshold of a Mediterranean-style home, one immediately feels a sense of relaxation, lightness and harmony, thanks to the combination of light colours with livelier shades and details with an authentic flavour.
While white can brighten and enlarge any room, intense shades inspired by nature, such as sky blue, yellow ochre and cactus green, are perfect for adding warmth and comfort to domestic interiors. Single colour, on the other hand, is absolutely banned, a heavy and dull option in this case.
As far as furniture is concerned, the choice inevitably falls on natural materials: wooden furniture, wicker chairs, terracotta pots and richly embroidered fabrics perfectly convey the authentic character of the new retro trend.
Green light is also given to flowery elements, such as evergreens, colourful flowers and aromatic plants with an enveloping scent, rosemary and lavender above all. The perception of well-being is then enhanced by the choice of fresh, impalpable fabrics, such as linen and cotton, and by the presence of airy curtains and yarns in white colours.
But where to start when renovating your rooms in Mediterranean style? When we think of this mood, our mind inevitably runs to hand-painted majolica, cotto floors and small glazed tiles, inevitable in every home in the Far South.
However, it must be considered that in modern renovation choices, it is not only a matter of cosmetic effects: so super-decorative floors and walls are approved, but they should be also functional, durable and budget-friendly.
This is where porcelain stoneware comes to the rescue, a natural material with high technical performance, available at a reasonable cost and above all capable of reproducing traditional encaustic tiles impeccably. Transforming your rooms into a sunny, carefree and vintage setting has never been easier... and funnier!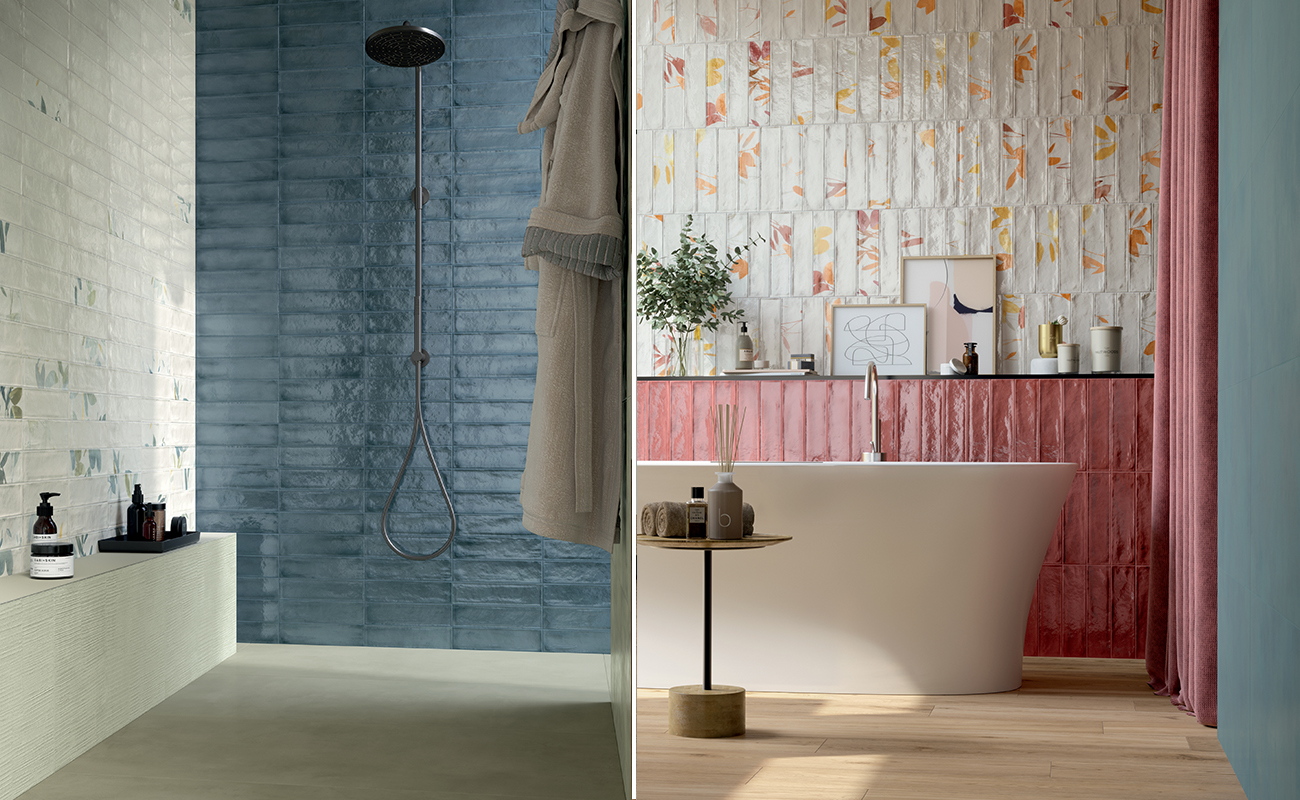 The Marca Corona Encaustic Tiles: colours and sizes
Marca Corona offers its own interpretation of Mediterranean and vintage style through the floor and wall tiles of the 1741 Line.
These encaustic effect porcelain stoneware floor and wall tiles are a tribute to the best of Italy's decorative art and ceramic tradition.
With the Multiforme1741 collection, brick-size tiles are enriched with sunny colours, , flowery patterns and brilliant glazes to give an original and vintage touch to new interior design projects.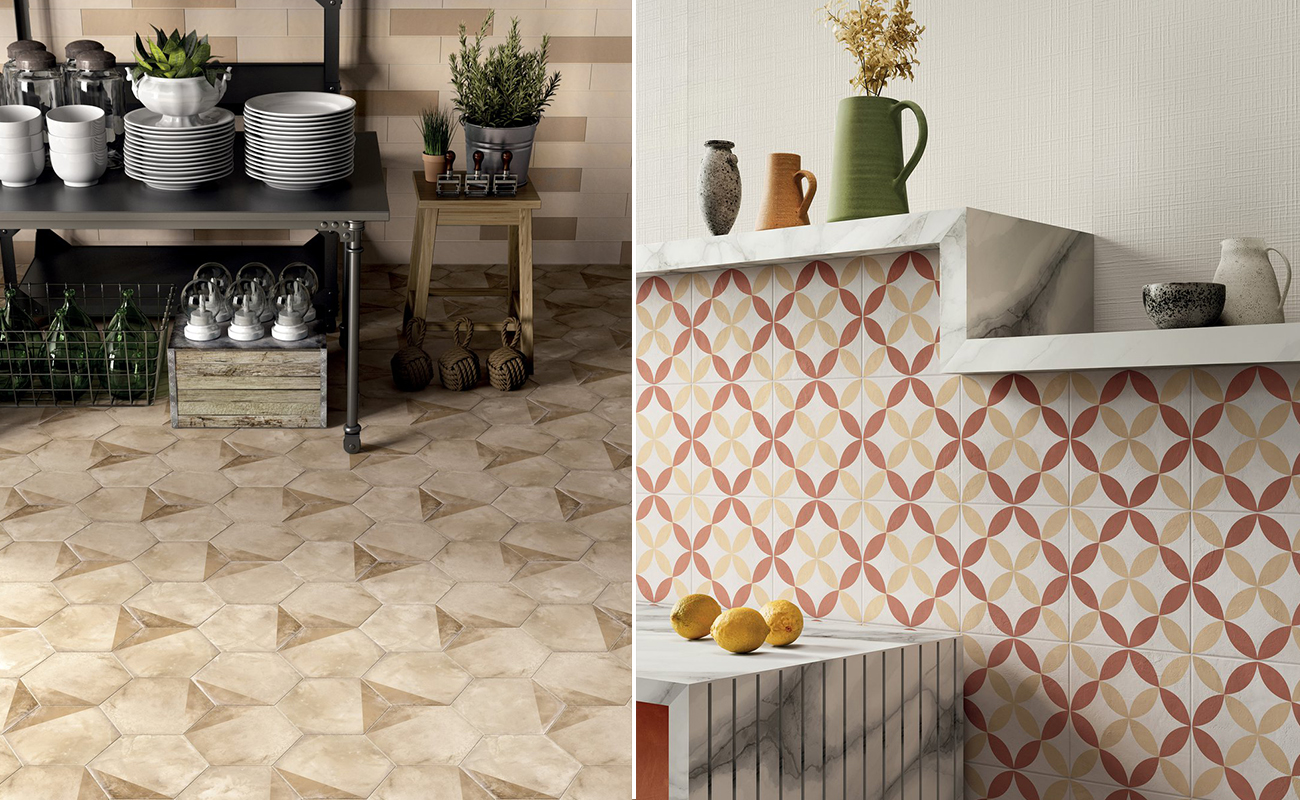 Carefree and eclectic, this tile collection consists of:
8 lively and vivid colours;
a precious Ramage flowery decoration;
ultra-glossy finish surfaces;
a 7.5x30 size, suitable for the most varied installation combinations and ideal in its structure to amplify light reflection phenomena.
Perfect for both floor and wall installation, Multiforme1741 can be used to give style and personality to any room in the house: the bathroom loses its anonymous and aseptic connotation, transforming itself into a cheerful and personal environment; the kitchen becomes a functional space, perfect for experimenting with new recipes and enjoying conviviality; the living room and bedroom convey new sensations of relaxation and intimacy, ideal for recharging energy.
Encaustic tile Collections Terra and Terra.Art, on the other hand, are particularly suitable for recreating more subdued - but no less creative - settings inspired by the homes of the past.

Both collections, in fact:
modernize all the beauty and authenticity of vintage cotto and encaustic tiles
offer a sophisticated decorative setting of timeless elegance in pure Mediterranean style.
guarantee maximum hygiene, superior technical performance and all the reliability of Made-in-Italy porcelain stoneware.