Panzeri 1947
Specializing in architectural and decorative lighting, Panzeri has solid all-Italian origins and a family heritage which now sees the third generation at the helm. Our focus on quality, research and creativity has taken us to the forefront of the lighting industry, working alongside designers who have found in Panzeri a reliable and flexible partner for projects designed and built to specification. The transformations, visions, and artisan and industrial expertise we have built up over our 70 years in the business are now the pillars of our shared heritage.
Panzeri turns experiences, needs and aesthetics into integrated lighting projects: a legacy which has been carefully preserved through the decades. As we venture into the next decade of our history and towards new frontiers in our industrial design capacities, we embrace new forms of creativity destined to become the classics of the future.
A family of entrepreneurs.
A story of talent, a unique technological identity.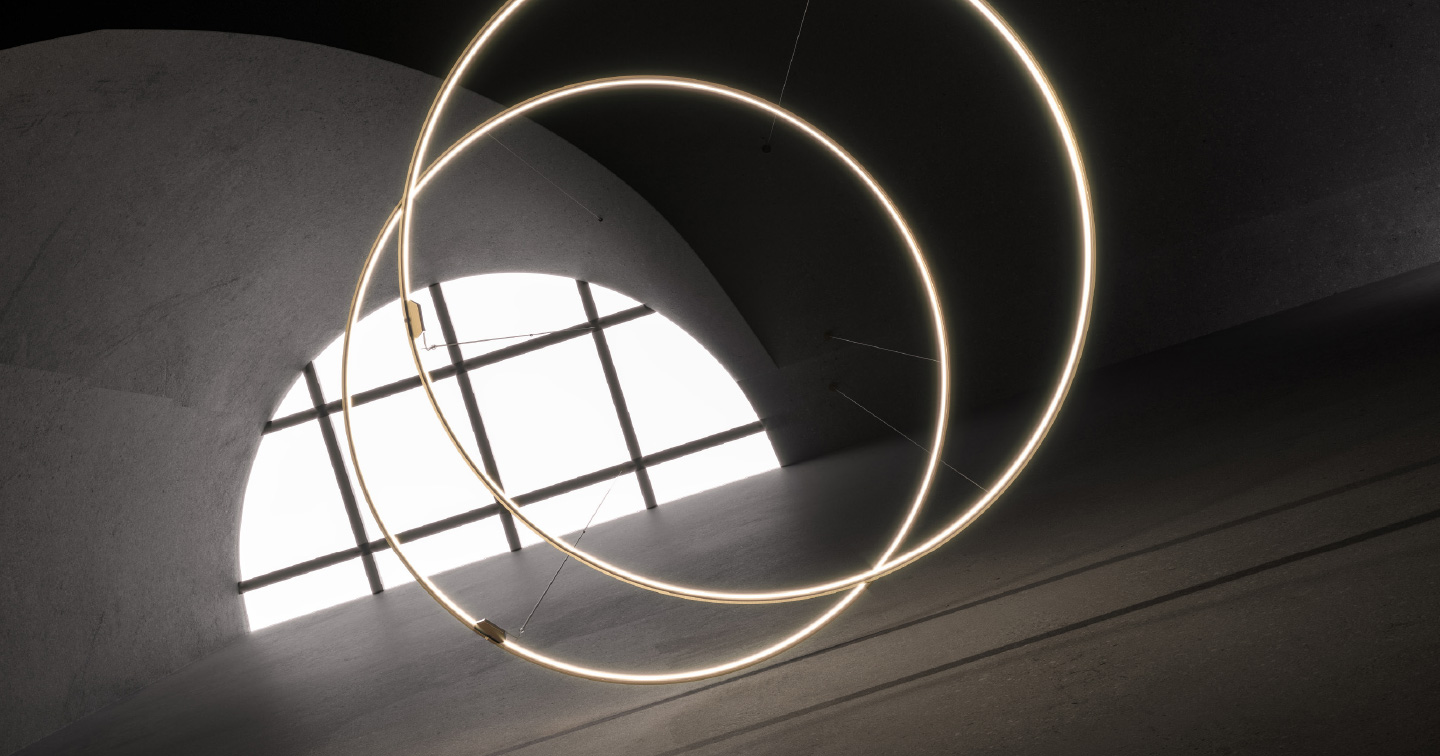 The essential: Zero Round
Zero Round was created by Enzo Panzeri, the company's lead designer, and launched in 2018. Its instant success and ability to combine elegant minimalism with high-functioning technology secured its place as a classic in the Panzeri range. The slim, horizontal lamp which can be ceiling-hung or wall-mounted is made of extruded, curved aluminum with a opal polycarbonate screen. Light is emitted from its interior by an LED module integrated into the canopy. The ring, available in three sizes, has a white, black, titanium, bronze polyacrylic paint and satin brass finish.
Ideal for offices, lobbies, living areas, and large spaces as a single installation or multiple composition, whichever best suits the project. Zero Round embodies the desire to combine functionality and emotion in design. The minimalist frame emitting light from within confers a feeling of lightness, a curlicue of light suspended mid-air.
The embodiment of a constant experimentation with materials, colours and
finishes, combined with profound aesthetic sensitivity.

Light transforming spaces
The production of light penetrates and permeates a project in all its forms, as an essential component in building any space, whether indoors or outdoors, from its concept creation. A lighting system inevitably redefines its surroundings, changes how space is perceived, as can be seen in the installation created for the Hotel Arlberg Lech in Austria. The premise of this project was to redefine the use of each space and create focal points which could expand the interiors.

Indirect light LED strips provided a way of illuminating these precious surfaces without glare and adding depth to the rooms and suites. Organic shapes such as Zero Round were used to draw out the tactile features of the surfaces and convey the sense of circulation and cycles of wellness experienced in the spa. The project won the German Design Award 2020 in the Excellent Interior Architecture category.
A culture of design at the service
of function and sustainability.